LDM servis, spol. s r.o. Česká Třebová
Customer warranty and after warranty service of LDM products is at domestic market and abroad provided by subsidiary LDM servis, spol. s r.o. Česká Třebová.
Company LDM servis was founded in 1997 as a subsidiary of company LDM, spol. s r.o. Česká Třebová. The Headquarters of LDM service is in production facility LDM. Repair of valves and actuators is performed in its own premises or at a customer´s site and over the Czech Republic and abroad. To ensure the services company has a professional team of staff providing quality service to customer (hospitals, schools and continuous operations within 24 hours). Customer satisfaction is supported by strong action, good organization, original spare parts and technical background of the parent company.
The company also provides customer service of actuators the following manufacturers: ZPA Pečky, ZPA Nová Paka, Ekorex+ Nová Paka, SPA Praha, Regada Prešov, Siemens, Belimo, Johnson Controls, Honeywell, Sauter, Auma, Schiebel, Rotork, Foxboro, EMG Drehmo, A.Hock, PS Automation etc.
We provide a guarantee period from 6 to 24 months at our works and supplied spare parts (manufactured in the factory according to the manufacturer´s documentation). In service work are hold the health and safety principles and waste management.
We are holders of certificate ISO 9001.
To ensure flexible repair capabilities, the company has the five service centres throughout the Czech Republic (Brno, Ostrava, Usti nad Labem, Plzeň and Sezimovo Ústí), which provide service activity in the range of valves for heating and air conditioning. Abroad provide customer services our company LDM servis, as well as the subsidiary of LDM: in Slovak Republic LDM Bratislava s.r.o., in Poland LDM Polska Sp. z. o. o., in Germany LDM Armaturen GmbH, in Bulgaria LDM Bulgaria Ltd., in Russia the company OOO "LDM Promarmatura" and in Kazakhstan TOO "LDM".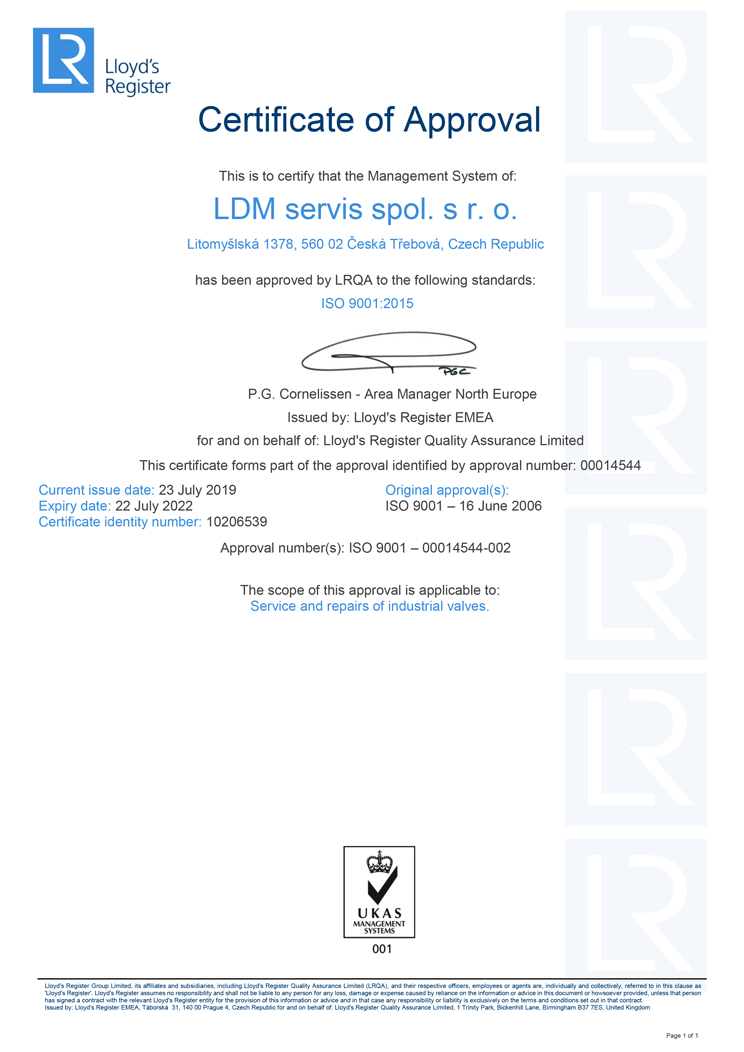 ISO 9001 Certificate (CZ) in *.pdf (Adobe Acrobat) format 

   ISO 9001 Certificate (ENG) in *.pdf (Adobe Acrobat) format
Provided services:
Prophylactic inspections, commissioning, operation, adjusting of valves and actuators
Sale of spare parts and actuators
Customer warranty and after warranty service valves from the production program of the company LDM, spol. s r.o. Česká Třebová
Service of former production program Ex-Sigma Česká Třebová (Armaturka Česká Třebová, a.s.), i.e. control valves type G, SRV, IPV
Changes of Kvs-values, flow characteristics, exchange of plugs and regulators cases
Welding of hart metal on sealing surfaces
Technical assistance
Reconstruction of packing boxes
Overhauls
Pressure testing services, including the issue of test report according to ČSN
Customer warranty and after warranty service of actuators
Emergency service
Providing of comprehensive services in the field of valves - technical expertise, project documentation, supply of new valves, realization - always on the basis of contract


     
Contact the staff of LDM servis, spol. s r.o.
Working hours: Monday to Friday from 6.00 to 14.30 am

Authorized service centres
LDM servis, spol. s r.o.
Litomyšlská 1378
560 02 Česká Třebová
Czech Republic
tel.: +420 465 502 411-3
fax: +420 531 010
E-mail: Servis