02. 03. 2022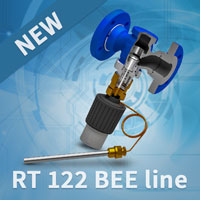 Entirely new RT 122 BEE line has been added to LDM product range. RT 122 BEE line are self-acting temperature regulators providing control function without auxiliary energy input.
Available variants:
Self-acting temperature regulator RT 122 R - controls flow through the appliance on the basis of medium set temperature. Valve is controlled by thermostatic head using an adsorption temperature sensor. It closes the valve upon increase of temperature.
Self-acting temperature regulator with flow restrictor RT 122 P - ensures requirement for restriction of maximum flow through the appliance apart from its basic function (regulation on the basis of medium temperature). This function is provided by a secondary plug adjusted for the required maximum flow.
Supplied in the nominal size range from DN 15 to DN 50 and in the pressure class range of PN 25, RT 122 valves are designed for use in district heating systems, for heat exchangers and other heating, air conditioning and industrial applications.
Valves are suitable for process media such as water, steam, air and other non-aggressive liquids and non-flammable gases in the temperature range from +2°C to +180°C.
Thermostatic sensor has been designed for operation in liquid and gaseous media in the temperature range from +0°C to +150°C.
Available for order from March 2022. Valve data sheet and other technical documentation can be found here.